Welcome to Allendale Terrace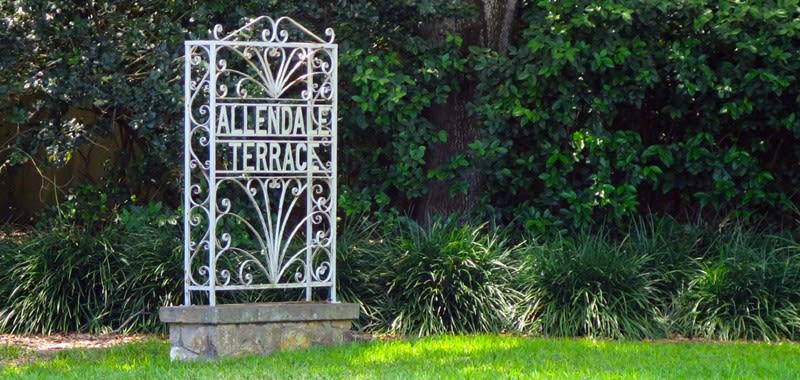 Why Live Here?
Allendale Terrace is lined with colorful palettes of brick streets, bold and beautiful oak trees, and spacious lots. The neighborhood homes have their personality, balanced with original single-story bungalow homes from the 1920s - the 1970s, and newly con constructed multi-story luxury real estate homes - all of which are in non-flood zones.
With nearly 1,600+ satisfied residents, Allendale Terrace takes great pride during the holidays, and the efforts are certainly shown. People drive from other areas just to appreciate Allendale Terrace with its astonishing lights and decorations for both Halloween and Christmas time.
Local Schools
Allendale Terrace schools are ranked above average with both public and private options for all grade levels. Nearby is the University of South Florida, which is highly ranked and recognized for its success.
Employment
Allendale Terrace area has an expanding workforce that offers a wealth of career opportunities to residents. Many residents work in St. Petersburg or Tampa. The largest employers in these cities are the Pinellas County School Board, Baycare Bayfront Medical Center, Tech Data, Jabil, and WellCare Health Plans in Tampa and Raymond James, HSN, Johns Hopkins All Children's Hospital, and Times Publishing Company in St. Petersburg.
Entertainment
Allendale Terrace is 10 minutes from waterfront downtown St. Petersburg with attractions such as the innovative Salvador Dali Museum, Mahaffey Theater - Center for the Performing Arts - home to The Florida Orchestra, and the comprehensive Museum of Fine Arts. For sports enthusiasts, both the Tampa Bay Rays MLB stadium and the Tampa Bay Rowdies professional soccer stadium are minutes away. Live shows and events take place in the area weekly. Conveniently located to I-275 and just 20 minutes from Florida's famous St. Pete Beach. Allendale Terrace area is surrounded by a variety of supermarkets for specific needs - such as Trader Joe's, Rollin' Oats, The Fresh Market, Publix, and more.
Parks and Rec
Allendale Terrace has its very own 3.1-acre park and is located near other parks such as Sawgrass Lake Park which provides ample opportunity to observe an abundance of wildlife and nature in action. 10 minutes North, is the popular 3,000-acre Weedon Island preserve - where one can trail, picnic, fish, kayak, and paddleboard along the quiet coast.
Roberts Recreation Center
is nearby and provides a large variety of programs and activities for all ages. 10 minutes South, is vibrant downtown St. Petersburg, where Demons Landing Park offers boat ramps, fishing opportunities, picnic tables, and a sanded playground - all with a gorgeous view of the new waterfront St. Pete Pier.
Real Estate Housing
Real estate in Allendale Terrace Florida values from $300K to $1.6M+ The neighborhood is trending, and because of this, the housing market is quite competitive.
Is Allendale Terrace Right For You?
If you're considering real estate in Euclid St. Paul Florida, The Horvath Group has many years of experience with matching buyers and sellers to their real estate goals. As a local real estate agent, The Horvath Group has market knowledge in the Euclid St. Paul neighborhood and would be honored to help make a dream home become a reality. Give The Horvath Group a call, text, or email today to get started on your real estate goals.