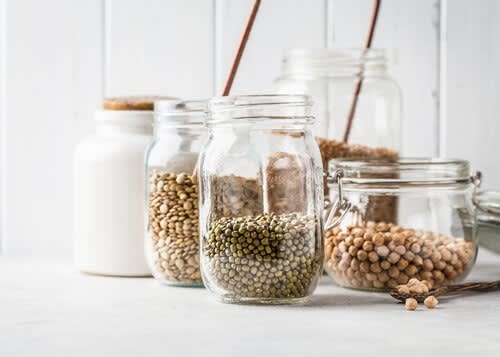 Not all foods store well in the pantry, even if it says it doesn't require refrigeration. Some can go stale, others grow bacteria, and a few develop mold. Here are 10 items that are better off stored in your fridge.
Garlic-Infused Olive Oil
Homemade garlic-infused olive oil can contain botulinum spores, which grow into the bacteria that cause botulism. Any oil infused with garlic should be kept in the refrigerator to prevent bacteria growth. Throw it away after seven days.
Pure Maple Syrup
Pure maple syrup can go moldy, so it's best stored in the fridge. If you store your syrup in the pantry and the container is opaque, you may not see the mold until you've started to pour syrup on your pancakes.
Sunflower and Truffle Oil
Cold-pressed oils like sunflower and truffle oil have a short shelf life if they're not refrigerated. As they're pricier than some of their counterparts, it's definitely worth keeping them cold to extend their usefulness.
Nuts
When stored in the pantry, nuts are more likely to go stale. If you frequently reach for the nuts, you may be leaving bacteria behind, and if you grab a few nuts while your hands are wet, the chance that bacteria will grow increases. Over time, you could end up with nuts that are both stale and covered in bacteria.
Salami and Other Cured Meats
Cured meats are prone to drying out if opened and stored in the pantry. Wrap the meat in butcher paper and refrigerate it to preserve its flavor and texture, and to protect you from potential illness.
Chocolate
You can extend the life of chocolate by storing it in the refrigerator. Before you stick it in the fridge, wrap chocolate tightly. Once the chocolate is wrapped, put it in an airtight container until you're ready to eat it.
Tortillas
Though tortillas are rarely served cold, it's best to store them in the fridge. Whether you use flour or corn tortillas, they'll stay fresher longer if kept at a regulated cold temperature after you open the package.
Whole-Grain Flours
Whole-grain flours retain the bran and germ that gets removed from all-purpose flours. Both bran and germ contain oils that can go rancid if they're not refrigerated or frozen, so keep your all-purpose flour in the pantry, but move the whole-grain to the fridge.
Natural Peanut Butter
Natural peanut butter, the kind that separates in the jar, needs to be kept cool. Like the oils in whole-grain flours, the oils in natural peanut butter can go rancid if left in the pantry.
Mustard
Most mustard containers indicate that refrigeration isn't necessary after opening. But mustard loses its flavor and vibrant color fairly quickly. To keep it tasting and looking its best, keep mustard in the refrigerator.